Got the Best Clearance Deal!
💥Buy 1 Get 1 Free Gift
💥Buy $50 get $2 OFF
💥Buy $150 get $5 OFF
💥Buy $200 get $10 OFF

Regular price

$120.00

Sale price

$69.99

Unit price

per

Sale

Sold out

Secure & trusted checkout with
Free Shipping On All Orders

30-Day Money Back Guarantee

Secure Payments
Shipping/ Replacement Policies

FREE Shipping on All US Orders and FREE Worldwide Shipping when Buying 2+ Items. All orders are shipped with a tracking number. Shipping times just take 1-3 days.

FREE Replacement for faulty products! We allow customers to keep items that can't be resold and eliminate unnecessary waste.

Have a Question?

Please check out our Frequently Asked Questions page or leave a question below for more support!
Guarantee

Risk-free 30-day guarantee that begins only when you receive the product! If you don't have a positive experience for any reason, e-mail us at support@365famtools.com and we will help you out.
The LABOR-SAVING ARM with Two Drop Modes for those who like DIY & carpentry Job.  Get Free Safety Gloves and Free Shipping On All US Orders!
With the lifting capacity of up to 400kg/ 880lb with two pieces the range of applications is virtually unlimited. The installation of doors, windows and cabinets are obvious uses, but flooring and the construction of porches, decks and frameworks are also perfect opportunities to use this ingenious tool. All this and much more can easily be done with controlled precision thanks to the unique construction of the 365Famtools™ The Newest Labor Saving Arm With Two Drop Modes.

View full details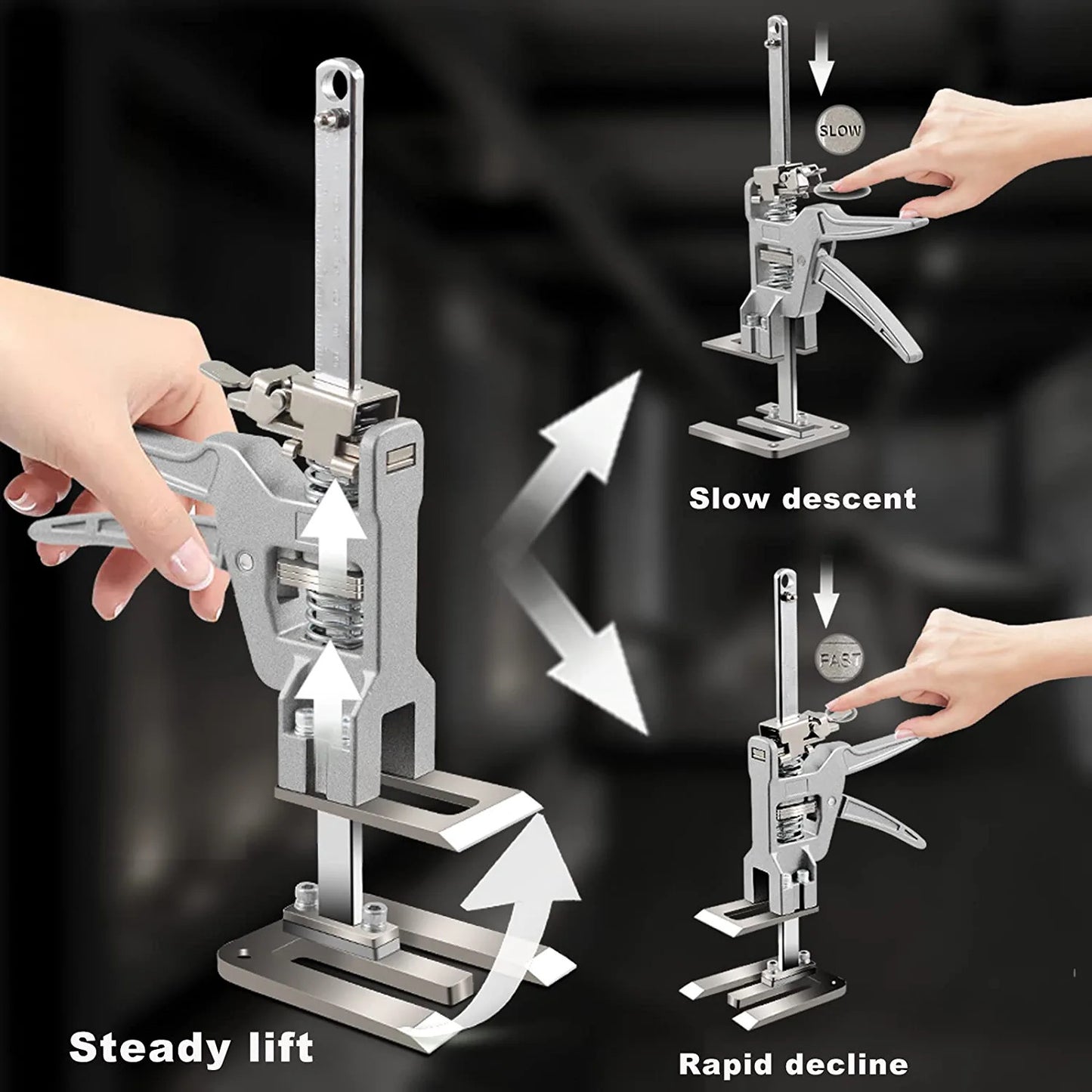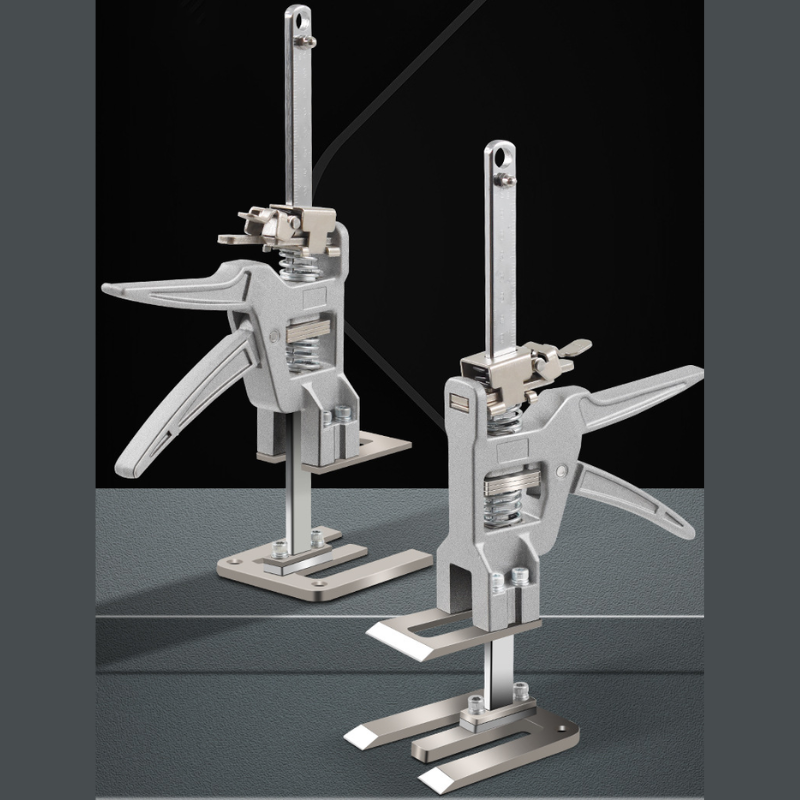 Analysis Of 365Famtools Labor Saving Arm Jack With Two Drop Modes
Two drop modes & more wear-resistant which is the biggest innovation we bring to users.

Lift up to 400kg / 880lb With Two Pieces. High-strength endurance.

Thicken 45# Base - Carrying capacity is greatly improved
Professional Lift Tool For Industries

Key Specifications
Material: Hardened stainless steel / Aluminum
Capacity: Up to 200 kg = 440 lb
Operation range (mm): 5 - 170
Standard base (mm): 4 x 92 x 80
Single Weight (kg/lb): 0.9kg/1.9lb
Total Height (mm/inch): 304mm/11.9inch
Weight: 0.45 kg = 1,0 lb
Frequently Asked Questions (FAQs)
How Heavy An Object Can Be Lifted By Labor Saving Arm?

Lifting an object weighing up to 200 kg (440lb) with one Labor Saving. Lifting of heavier objects is not covered by the product warranty. Please see maximum load diagrams in the Manual & Tutorials section.
I Have Bent Lifting Bars. What Can I Do?

Lifting an object weighing over 200 kg with one Labor Saving Arm may result in bent bars/base. Such use of the tool is not covered by our product warranty. You may remove bars/base and try to bend them back. If this doesn't help, you can replace the bars/base. Please Send us a message if you need to order spare parts.
My Labor Saving Arm Makes A Creaking Noise. Can I Fix It Somehow?

While creaking can be really annoying it doesn't affect the Labor Saving Arm's functionality. Actually, some craftsmen prefer to work with a "dry" tool. If you want to eliminate creaking, you may try to twist springs a bit first. If this doesn't help, any quality technical lubricant will fix it.
How Should I Maintain Labor Savinng Arm? Can I Repair It If I Experience Any Problems?

It is important to maintain your Labor Saving Arm regularly. This will help increase the service life as well as the performance.

Your Labor Saving Arm should remain free of debris, sand, cement and dust, which can cause damage over a long time. It is well worth to spend a few minutes cleaning the tool compared to the cost of repairing or replacing it.

Cleaning the tool regularly is essential to their proper functioning. You can clean it by simply wiping all over with a rag. If the arm is dirty, do not hesitate to disassemble it, clean and lubricate all the parts properly. Please watch our Labor Saving Arm Assembly video in the Manual & Tutorial section.

Lubricate your Labor Saving Arm before you start using it and on a regular basis after that. Sprinkle metal parts  with a light coat of any good industrial lubrication oil.  Lubricating helps to improve performance of the tool, solve  occasional loss of functionality, reduce wear and tear of components and prevent corrosion.

Regularly inspect your Labor Saving Arm for signs of damage and faulty functioning. Ensure that you repair your tool immediately if there is any damage.
When Will My Order Ship?

Orders are processed depending on item availability and payment approval. During high volume periods, product availability may be subject to change while your order is being processed.

Most orders placed on business days will be processed and shipped within 1-3 days.

We are unable to deliver on weekends or public holidays, any orders placed during this period will be dispatched the following business day.
How Long Does My Order Take To Arrive?

FREE Worldwide Shipping over $69+. All orders are shipped with a tracking number.

For customers in the Contiguous States of USA:

Standard: 7-15 business days.

For customers in other countries (Canada, EU, UK, Australia...):

Standard: 12 - 28 business days.

Please note that shipping times do not include the standard 1-3 business days processing time it takes for the order to ship out.
Where Does 365Famtools Ship From?

Normally, most of 365Famtool's in-stock products are shipped from the US and will be delivered in 4-7 business days. Some would be sent directly from our factories in Asian (will be shipped from our warehouses in Vietnam, Cambodia, India, etc.) & it will take 6-18 business days. We've partnered with top manufacturers and distributors around the globe to ensure that only products of the highest quality standards are delivered to you in no time.
How Do I Track My Order?

Once your order has been shipped, you will receive an e-mail notification containing the shipment tracking information. You will then be able to track your order through the tracking link on your email. Your order may arrive in several shipments. You will receive a separate e-mail notification for each shipment.

It will be sent to the email you used for placing the order. If you fail to track your order, please email support@365famtools.com with your order number and request.
How Do I Change Or Cancel An Order?

You may change or cancel your order by our Customer Support Team before the order is processed.

If you miss this grace period, no worries! We are committing to ensuring that you find your perfect fit at Return & Refund Policy. If you want to change your order, we recommend placing a new order to ensure that you receive it as soon as possible. 
What Should I Do If I Did Not Receive My Delivered Package?

First double-check the area where the carrier would have left it. Ask neighbors too in case the package was dropped at the wrong door. Also, look for any "attempted delivery" notices, which means the carrier tried to deliver it, but no one was home. If you still don't see anything, wait until the end of the next day, because some carriers' electronic systems may show the package as delivered, even when it's still on the way. Still no luck? Call the carrier with your tracking number for more information.

If the carrier is unable to provide a resolution please contact our Customer Care Center at support@365famtools.com